Pullen Farm: 
Surrounded by mountains, with a clear view down the valley, Pullen Farm was home for the first week of our OTS African Ecology and Conservation adventure. For us students, it was a week of getting to know each other and settling into life in South Africa.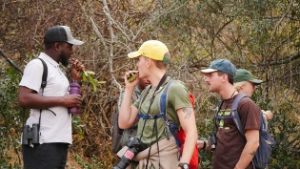 The lectures started slow and we had lots of free time to explore. The surrounding area was perfect for hikes, trail runs, and enjoying the beautiful woodland savanna view. On one of the first days there, we did a lecture hike. We stopped by many plants and pointed out many features of the environment. One feature was areas that had been engulfed by fire. Savannas are disturbance-fueled ecosystems and need them to maintain a healthy state. A plant we learned about was the toothbrush plant. It is called this because you can chew on the bottom of a stem and use it to clean your teeth. In the picture below you can see Zingfa, Petter, and me trying it out!
At the end of the week, we had our long-awaited day off. The instructors had set up an amazing race for us to compete in which
was super fun. We split up into 3 groups and set off with our GPS and clue in hand. After a few technical difficulties, we were on our way and cruising. After a long day of running around Pullen, the results were in… and unfortunately, my team came 2nd. Regardless of the position, we all had an amazing time and really enjoyed it.
Tshulu Camp:
Before and after our homestays we stayed at a camp in the mountains of Hamakuya called Tshulu camp. It was by far the most beautiful and breathtaking place I've been to so far this semester. The river was super close to camp and you could follow the cattle paths all the way up the river. The more we walked the more spectacular the views became, it was like I was in a nature documentary. The flowing river was surrounded by towering cliffs peppered with howling baboons, mimicking our movements as we walked upriver. In the distance, the sound of cowbells filled the air.
Later that night we were set to have a braai, a South African barbecue, and listen to live music from musicians from the nearby village. To my excitement, I was able to man the grill alongside Zingfa. This style of grilling is very similar to that of Brazilian culture so it felt right at home. Eating the braai afterward was almost as amazing, by far the best braai I've had here on OTS.