Ryan Davis
Grinnell College
Tropical Biology on a Changing Planet in Costa Rica, Fall 2014
I have few experiences that I look back upon with such fondness and joy as my semester abroad with the OTS Tropical Biology program in Costa Rica.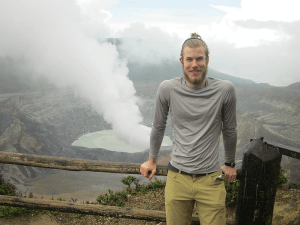 Throughout the semester, we took the time to visit and study a variety of incredible tropical landscapes–from cloud forests to tropical dry forests to the rainforest.I applied to the program because I was attracted to the OTS model of intensive yet applicable integration of critical thinking. I found exactly what I was looking for. Individual research, scientific paper writing, and other exercises made me much more confident as a scientist and a student.

Being literally immersed in the topics I was studying provided a whole new learning perspective–both inside and outside the classroom–and is an experience I would recommend to anyone interested in studying biology in an amazing setting.