Andrea Lucia Ayala Guerrero
Universidad Autonoma de Baja California
Tropical Biology– Summer 2023
It's the first day of the program in Costa Rica, and we have just arrived at La Selva Biological Station. After settling in, we kick off our activities with a short hike along the Cantarranas trail.
It's hard to believe that this course has finally begun after eagerly anticipating it for months. The sight around me is unlike anything I've ever seen—lush greenery, intense humidity, and an air of adventure all around.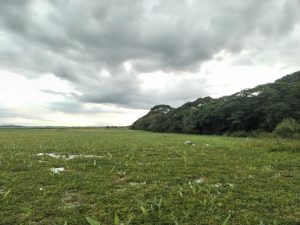 During the hike, we spot movement in the trees, and to our amazement, it's a white-faced capuchin monkey, my favorite animal! I'm overwhelmed with happiness, capturing the moment through my binoculars but also choosing to savor the experience firsthand. As we continue our hike, we are treated to even more monkey sightings, including a mother capuchin with her baby on her back, and playful spider monkeys swinging through the trees. I can't help but think about how fortunate I am to be in the presence of such incredible creatures.
Looking back, I chuckle at the thought of considering a career outside of biology. My passion for these creatures has persisted for over ten years. While I was afraid of not being good enough or finding it too challenging, this course has provided an opportunity to explore my interests. The Tropical Biology undergrad program not only allows us to explore the beauty of Costa Rican ecosystems but also actively applies the scientific method. From project design to fieldwork and sharing our results, it's an intense and effective introduction to the research world, supported by knowledgeable and kind professors.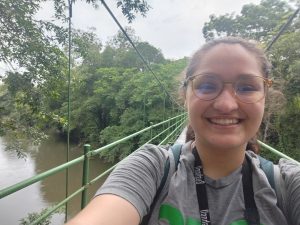 During my time here, I've been involved in two group projects—one at La Selva, where we studied the herbivory of philodendron epiphytes on legumes versus non-legumes, and another at Palo Verde Biological Station, where we analyzed the impact of native but invasive cattail on biodiversity. The experiences have been challenging but incredibly rewarding, both physically and mentally, as I grappled with self-doubt.
Through it all, I've realized my love for this field and am eager to continue learning and exploring. The tropics hold so much yet to be discovered, and I'm inspired to work toward my dream of primate studies on a larger scale. Though I can't predict the future, this course has solidified my passion and dedication to this pursuit.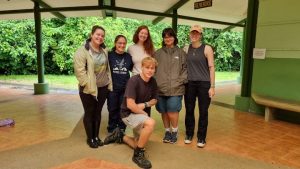 I want to extend my sincere appreciation to the Organization of Tropical Studies for providing such remarkable opportunities to generations of biologists. To all the faculty members, thank you for generously sharing your knowledge and supporting us throughout this journey. To my fellow undergrads on this course, I deeply admire and appreciate each of you. To the people of Costa Rica, thank you for sharing your beautiful country with us. Lastly, to my family, thank you for believing in me and making this experience possible.
As the program nears its end, I'm already looking forward to finding ways to come back and visit. There's still more than a week to enjoy, and I'm excited about our upcoming independent project. This journey has been an absolute blast!