Else Hayes
Bradley University
Tropical Biology– Summer 2023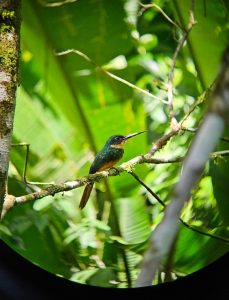 My time as part of the OTS Tropical Biology course is rapidly coming to an end. With only seven days left of this incredible experience, I am rushing to absorb the plethora of biodiversity seen across Costa Rica. This course has provided me with a once-in-a-lifetime opportunity to explore a wide variety of ecosystems and live with fellow researchers and nature enthusiasts. However, one of the greatest things this course has offered me is the chance to connect with like-minded peers, sharing interests and knowledge with them. Being part of this course has allowed me to forge strong bonds with lifelong friends, each with a unique focus of their own. I have expanded my understanding of spiders, insects, amphibians, plants, fungi, and primates while sharing my own knowledge of birds and moths. This collaborative sharing of knowledge and genuine curiosity from everyone has enriched my learning and deepened my love for the biodiversity this country has to offer.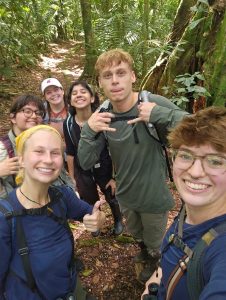 Of course, fieldwork doesn't always go as planned. Alongside the wonderful experiences and connections I've made during this trip, there have also been struggles to deal with. Food poisoning, altitude sickness, and COVID-19 have all affected our group. Moreover, the lack of privacy and living out of a suitcase can easily add to the stress. Despite all these challenges, our class has come together to support one another and face whatever comes our way. I've grown to rely on my fellow classmates through thick and thin, and I don't see that changing in the future. These experiences have only further solidified our friendships, and I wouldn't change that for anything.
As my time in Costa Rica draws to a close, I'm eager to continue exploring with the time I have left, and I look forward to future adventures.