Atzin Martinez
University of Hawaii Manoa
Tropical Biology– Summer 2023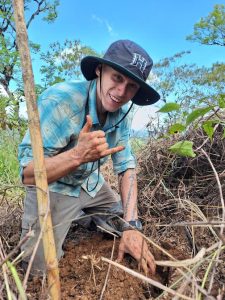 Being a part of the OTS Tropical Field Biology course has presented me with many valuable experiences and opportunities. I've met many amazing and smart people, many of which have given me a newfound sense of hope for a career in conservation.  The chance to converse and learn from these people has been invaluable and provided me with connections that have set me up for my future career with various opportunities now being real possibilities at my disposal.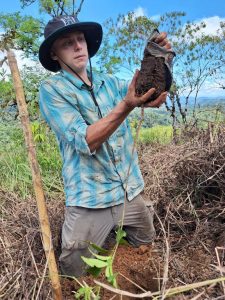 One of my favorite activities I've had the pleasure to be a part of has been planting trees with the organization Finca Cantaros. Finca Cantaros provided us an opportunity to get our hands dirty and spend a few hours doing some hard work that physically makes a difference. Working alongside the staff at Finca Cantaros we planted 430 trees in two and a half hours! In addition to getting a chance to have some fun in the mud we also had the opportunity to learn about various methods of environmental restoration and the proper methods of conducting it.
We were taught the difference between reforestation and environmental restoration. One is focused on the initial planting and tends to neglect the aftercare, while the other aims to tend to the trees until they are about 3 years old or so then allowing the forest to naturally regenerate. It also involves having an understanding of which plants are beneficial to reforestation in the native environment of Costa Rica and would further promote secondary plant growth once they have matured. Secondary plant growth refers to the plants that would develop in the understory under the shade of the newly planted tree further increasing the health and biodiversity of the newly planted forest. Of course, this would take many years, however, it would provide an environment for native fauna and flora to flourish.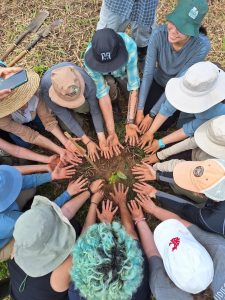 Overall, I had a great time planting trees and meeting many wonderful people during my time at Finca Cantaros. I thank OTS for the opportunity and Finca Cantaros for being so welcoming and willing to teach us all about trees and positive ways to regenerate forests!