Claire Asmussen
Northern Arizona University
Field Practicum– Summer 2023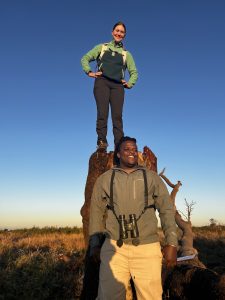 When I arrived at Johannesburg airport for my study abroad experience with OTS, I was met by a recent graduate and employee of the organization. We sat and had coffee in the airport waiting for another student to arrive, and I asked questions about what to expect. What I remember her saying above all else is that the connections I would make would shock me. She said, "You'll go back to the real world almost not knowing how to function without your team, who you have made every decision with and shared every experience with for the past month." At the time I couldn't imagine such close connections with people whose faces I hadn't even seen yet, but (shocker) she was right.
Of course, I hoped I would make close friends during my time with OTS, but it wasn't a deciding factor when I applied for the program. I was looking forward to learning research and fieldwork skills and seeing places and animals that were new and beautiful. I didn't expect the people I met to enhance my experience so deeply. Nevertheless, my fellow students became the best part of my experience. When we came across lions or rhinos I found joy not only in the experience but in the people who I got to experience it with and talk and laugh about it with later. Even on hot days when fieldwork seemed to drag on into the never-ending heat, we would uplift each other as a team, cracking jokes or sharing snacks, and we would make it through.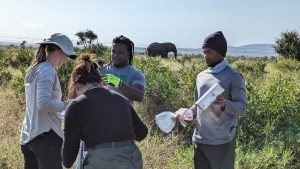 Part of forming close friendships with fellow students was a cultural exchange which broadened my worldview and helped me grow as a person. Students from South Africa and Eswatini shared cultural foods, traditions, and life experiences that helped me understand them better. I was shocked at first to realize just how many unique cultures exist in South Africa and Eswatini. Driving one hour could mean the native language was completely different and the people there were of an entirely separate culture. Additionally, it was interesting for me to see just how developed and similar to the U.S. some parts of South Africa are. The mix of foreignness and familiarity I experienced broadened my view without making me feel alone or uncomfortable. I had fun sharing my uniquely American experiences with Southern African students and connecting over both our similarities and differences.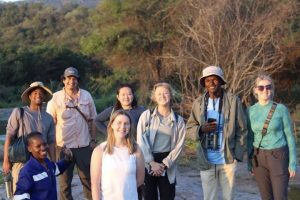 When I returned to the U.S. I once again revisited that first conversation in the airport and found that I did in fact form closer bonds than I ever could have imagined. For the first few days back home it felt weird to go somewhere without a car full of friends or to eat a meal without stopping to laugh at jokes. Though I don't spend every waking hour with them anymore, the friends I made at OTS are friends for life.